Famed Japanese website 4gamer.net has conducted an interview with several prominent game developper on what 2018 will bring from their studios or franchises. One of the interviewees was none other than Mr Yasuyuki Oda, producer of The King Of Fighters XIV.
Below is what Oda san had to say: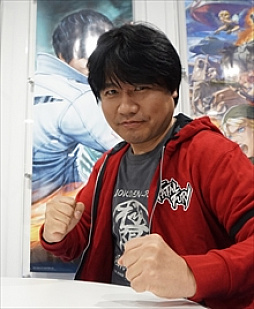 <質問4>2018年に向けての抱負、また4Gamer読者に向けてのメッセージをお願いします。
2018年はおかげさまでSNKブランド40周年です。
ゲームのほうはコンソール、アプリともに新タイトル(まだ言えない!)の発売や発表がありますし、好評発売中のKOF XIVもアップデートする予定です。
まずは元日よりKOFの漫画がスタートします! また40周年記念商品も、SNKオンラインショップを中心にどんどん発売していく準備を行っています。2018年のSNKにご期待ください!
Translation:
"2018 marks the 40th anniversary of the SNK brand. Video games wise we will have both a release and  an announcement for a console game and a mobile one (I cannot say anything about this ), and we are also planning to update KOFXIV which is currently on sale.
A new KOF comic will start from the first day of the year! We are also preparing some 40th anniversary commemorative products that will be on sale mainly on the SNK online shop. Please look forward to SNK in 2018"
Let's look at the obvious ones, we already know that SNK is updating KOFXIV with Ver 3.0, which will add new characters and other unannounced features to the game. We will know more about KOFXIV Ver 3.0 uring Evo Japan on January 26th.
The KOF comic, that Oda san mentions is the recently announced The King Of Fighters: A New Beginning manga, which its first chapter will be released on January 1st.
Now let's speculate about the new game announcement. While nothing is set in stone we have heard two rumors regarding which games SNK is working on. Back in 2016 i heard that SNK is working on a revival of the Samurai Shodown series and that it was supposed to be released in 2017 after KOFXIV. The second rumor appeared few months ago on 4chan stating that SNK is working on a cell shaded NeoGeo  Battle Colliseum sequel. If the game Oda san is one these two of if it is something else completely different remains to be seen.
Are you excited about the potential of SNK brand for 2018? And what game you hope SNK will announce? Let us know in the comments section.