SNK took the fighting world by surprise when they announced that they are releasing The King Of Fighters XIV Ver 3.0 in 2018, and are planning to show the first DLC character during EVO Japan at the end of January.
Not much is known about what KOFXIV Ver 3.0 will bring to the table, but that does not stop us from speculating and hoping what this new version can offer to both old and new fans of the game.
Before getting into the list, let's first see what SNK brought with each new version of The King Of Fighters XIV. The first major upgrade to KOF14 was in version 1.01, which introduced a graphical overhaul to the game's character models. The King Of Fighters XIV has received harsh, but on point, criticism to how the character models look, and with Ver 1.01, SNK improved the visual quality of the game, to an extent. The second major update to KOF14 was with Ver 2.00. The King Of Fighters XIV Ver 2.0 introduced new DLC character, in the form of Rock, Whip, Yamazaki and Vanessa, as well new stages, BGMS, and some balance update. Now that you have an idea on what each version brought to the game, let's go ahead and list our top 5 things we want to see in The King Of Fighters XIV Ver 3.0.
5- New Old Costumes
KOFXIV was a fresh take on the franchise character designs. Most of the cast has new set of clothes, whether it was Kyo or Terry, everyone looks different compared to the previous games. However, it is always nostalgic and a "feel good" option to be able to see your favorite character in their old fashion. SNK did start releasing some DLC costumes for some select fighters, like Kyo, Iori and Athena all getting their Orochi saga costumes but we hope with The King Of Fighters XIV that SNK will gave all classic characters their old costumes. But why stop at classics! we would love if SNK also adds some special costumes, like a King Of Fighters Destiny themed pack for all characters. Always wondered how Kyo and Terry anime costume will look in the game.
4- New/Old Stages with Intros 
Aside from classy fashion, The King Of Fighters series was also memorable for great background stages that were way ahead of their times. With the new The King Of Fighters XIV Ver 3.0 we hope SNK will bring back some old favorite stages from previous KOF or SNK games. While they are at it, we would also hope to see the old stage intro back. Introduced in Fatal Fury 2 with Krauser stage, stage intro are little intros that take place at the beginning of the match. Whether a giant door opens before revealing the China stage, or helicopters flying over the Ikari stage, intros and old stages remastered will be a great addition to The King Of Fighters XIV. For nostalgia sake, watch a collection of the KOF94 stage intros below:
3- Roster re-balance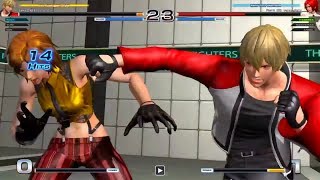 The King Of Fighters XIV is great fighting game that offers a large roster of character. This same feature is also a burned, as it is difficult to properly balance their whole 50+ fighters. While the game received few balance patches KOF XIV still suffers from a number of balance issues. Characters like Vanessa and Chang (among many others) are pretty much unusable online at this stage.
2- Graphical Upgrade
Let's face it. The King Of Fighters XIV still looks bad. It is true that SNK has improved the Shaders since the awful pre V1.10, and also made better models for the DLC characters, the majority of the roster still looks like plastic dolls. Some character are downright horrible looking, like Andy for example. With SNK updating KOFXIV we really hope that they also include a new Graphical patch to improve some  the game's visuals. Hoping for new character models is of course unrealistic, but one can hope re-tweaks of some models, better lighting, etc to give the game a good facelift. It is also worth mentioning that some talented fans have created sme amazing graphic mods for the King Of Fighters Steam Edition, that improve how the game looks. check out couple of them below:
1- Fan Favorite Characters as DLC
One thing we know for sure, The King Of Fighters XIV Ver 3.0 will add new characters to the roster. How many and what their identities are remains to be seen. We know that a new Saudi female fighter, named Najd, will be among them. With that in mind we do hope that SNK will bring back some fan favorites from the previous KOF series. Our top picks include: Heidern, Shingo, Krauser, Blue Mary, Ash and Chizuru. And If a recent rumor stating that the game will be getting a massive 11 new DLC fighters is true, then many of the mentioned fighters will indeed join the game.
—
Do you agree with our Top 5 Things We Want To See in The King Of Fighters XIV Ver 3.0? Is there anything else you want added to the game? Let us know what you think in the comments section below.